If you think Central Park is a vision in spring season, you're in for a real treat in winter!

Replacing the potpourri of colors with a brilliant canvas of still white snow, the park transforms into a glittering display of spectacular lights during the holidays—something you don't get to see any other time of year!
If you're planning a trip to the Big Apple between November and January, don't be scared of a little frost. Discover a world of winter wilderness in New York City's favorite park!
 Central Park Aglow
We know what you're wondering.
How do you plan a picnic when you're surrounding by ten inches of snow?
Luckily, the new season brings with it a slew of exciting activities that are best enjoyed (and some only made possible) in chilly weather. If you think Central Park perks are limited to Strawberry Fields and Shakespeare in the Park, prepare to be wowed by these wonderful winter activities:
Ice-Skating in Wollman or Lasker Rink
Once the lush green foliage turns a pristine icy blue, the Victorian Gardens amusement park transforms into the stunning Wollman Skating Rink—buzzing with the excitement of kids, couples and families.
A less crowded alternative to the Rock Center Rink, here you'll see a wonderful mix of rural and urban New Yorkers gleefully renting skates and having some fun on the ice.
Want a safer, more spacious spot for novices? Head north to Lasker rink and skate with complete abandon! #YoureWelcome
Horse-Drawn Carriages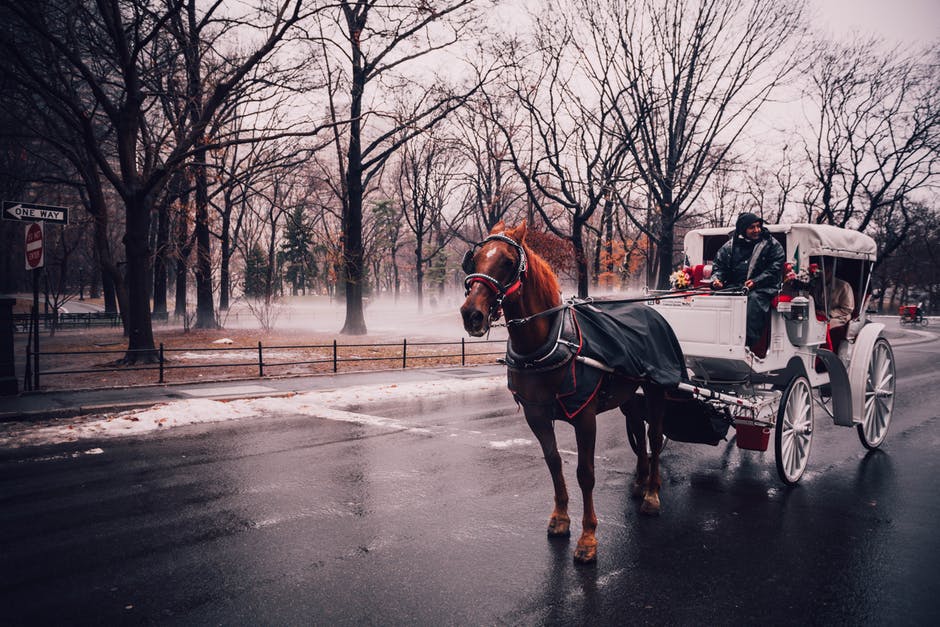 If you're visiting New York City with a partner, consider taking a romantic horse-drawn carriage ride against the picturesque backdrop of a snow-laden Central Park.
This winter-special activity will take you and your sweetheart back in time to 19th-century New York, explaining the popularity of all those horses you see in museums across Manhattan.
Winter Jam 2018
If you're looking for a more proactive activity than riding in a horse-drawn carriage, be sure to participate in the annual Winter Jam organized in Central Park. The highly anticipated event features a variety of family-friendly activities that include live ice sculpting, Arctic Golf, dodgeball, ice bowling, sledding and the Taste NY Winter Market.
From skis, snowboards and snowshoes, lessons and equipment rental are offered free of charge! In addition, you get to frolic in the snow with your pet, munch on warm, delectable winter treats, and listen to some great live music—all in one place.
And that's just the tip of the proverbial ice-berg!
Learn more about the thrilling adventures awaiting you in New York City, and book a Central Parks Secrets & Highlights Tour this winter!